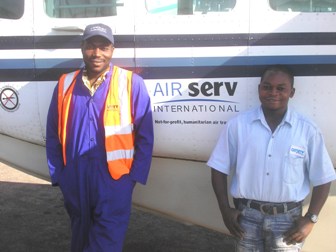 05 Apr

Congolese staffers work into the night to secure fuel supply for morning flight

By Jeremy Keyes

5 April 2008 – When Air Serv International's regular aircraft fuel supplier at Lubumbashi Airport in the DRC last week could not supply fuel for the following day's flight, Japhet Mbali and Jerome Kikunibitingo worked into the night to acquire fuel for the 7 a.m. flight.

Sarah O'Boyle, the Katanga Area Coordinator for Concern Worldwide, the Irish NGO, was relying on Air Serv's plane the following morning for deployment of personnel and delivery of construction materials. "I completely appreciate what they did in working so late to get fuel to let our flight go," she said. "Because of what they did, we were able to position staff to the field, deliver construction material for 29 schools in the Shamwana area, as well as get some important car parts to broken down vehicles."

Aviation Manager and Chief Pilot in Lubumbashi Jeremy Keyes said that the efforts of Japhet Mbali and Jerome Kikunibitingo ensured not only that the Lubumbashi aircraft got a full day of flying Wednesday, but also enabled the program to fully restock the drum fuel supply and ensured fuel for the Kalemie program. "Their efforts were above-and-beyond the call of duty," said Keyes, who forwarded the information to Air Serv's Home Office in Warrenton, Virginia. "It is the dedication of our employees that makes all the difference to our operation," he said.

Assistant Log Coordinator Japhet Mbali Saga is a 30-year-old native of Bunia, DRC. He has been working in Air Serv's Lubumbashi, DRC program since 2004. Ramp Assistant Jerome Kikunibitingo is a 29-year-old resident of Goma, DRC, where he started his Air Serv International career. For the past two years, Jerome has been stationed in Lubumbashi.

Air Serv International has served the international humanitarian community in the Democratic Republic of the Congo (DRC) since 1999, providing fast, safe and reliable access for our partners working in the region. From its bases in Goma, Lubumbashi, and Kalemie, Air Serv provided flights throughout the entire East Central region of the DRC.

Funding from USAID's Office of Foreign Disaster Assistance (OFDA) as well as the UK Department for International Development (DFID), the International Organization of Migration (IOM), and UN Pool Funding made it possible for Air Serv to significantly enhance the projects and efforts of numerous humanitarian organizations and agencies. The Goma base alone served more than 50 different humanitarian organizations, including Médecins Sans Frontières (MSF), Solidarités, Merlin, UNHCR and the UN Office for the Coordination of Humanitarian Affairs (OCHA). From Lubumbashi Air Serv planes flew to and from twelve locations in the Katanga region, and the Kalemie shuttle serves several interior villages. Aircraft carry humanitarian staff and vital cargo and perform medical and security evacuations.

——————————————————————————–

Jeremy Keyes was Air Serv's Aviation Manager and Chief Pilot in Lubumbashi, Democratic Republic of the Congo.