22 Nov

Air Serv Responds to Cholera Outbreak in Southern DRC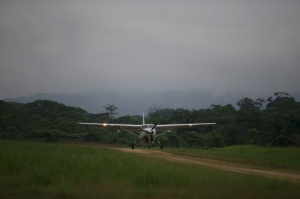 Enetbbe, Uganda. Air Serv has deployed an aircraft to the Kasai Province of the Democratic Republic of the Congo (DRC) in response to the cholera epidemic affecting the region. The aircraft, carrying a two pilot crew, departed Entebbe International Airport for Kananga on November 18 and will be supporting efforts by Medecins Sans Frontieres (MSF) to contain the outbreak.
The response team is scheduled to carry out a ten-day mission transporting medicine, medical teams, and patients as needed, and will simultaneously complete aerial inspections of local airfields to assess conditions and suitability for use. Following the mission, the team will remain on standby in the event an extended response is required.
Excessive violence in DRC caused by ethnic and political unrest has resulted in the displacement of approximately four million people, prompting the United Nations High Commissioner for Refugees (UNHCR) to declare a 'level three emergency'. This puts the crisis in DRC on level with Iraq, Syria, and Yemen.
The influx of displaced persons to already densely populated areas, violent conflicts which have caused damage to healthcare facilities, and drought which has led to contaminated water sources as well as unsanitary conditions, have all been major factors in creating one of the worst cholera epidemics in the nation's history. According to a statement from an MSF spokesperson, 18,000 cases of cholera had been treated by MSF alone as of October 2017. The total number of registered cases is expected to exceed 40,000 by the end of the year.
With over 20 years of experience in DRC, Air Serv remains committed to providing safe, quick, and efficient transport for humanitarian groups responding to the crisis. "We have been here a long time," says Air Serv CEO Stu Willcuts, "and we have come to care very much for the people of DRC. We will do everything we can to support relief efforts. This is more than a mission to us. It's personal."
Air Serv operates a fleet of seven Cessna Caravans, providing "last mile" air transportation in support of humanitarian programs. Responses span eastern and central Africa as needed, with ongoing programs in the Democratic Republic of the Congo and the Republic of Chad. From an operations base located in Entebbe, Uganda, Air Serv also provides commercial air charter, facilities, and aircraft maintenance services. For more information, please see www.airserv.org.