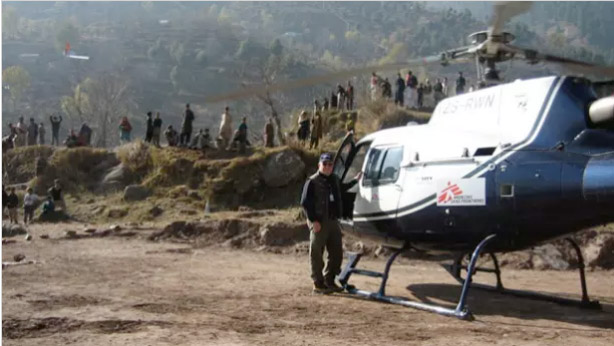 27 Oct

A pilot's humanitarian takeoff

By Jenny Lei Ravelo October 2014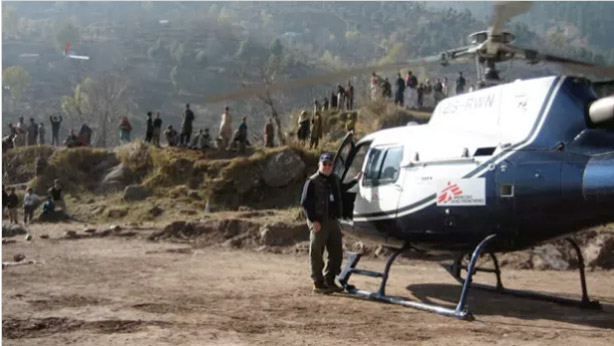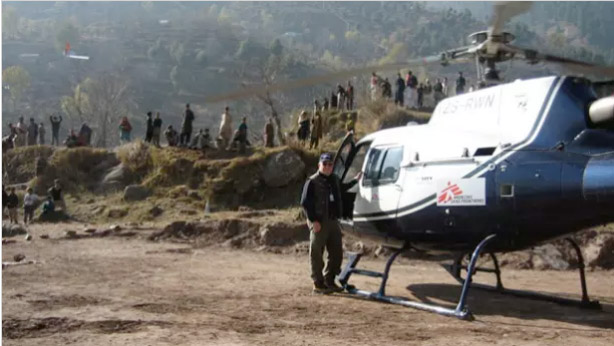 Mark Abbott volunteered to serve as country director for Air Serv in Muzaffarabad, Pakistan where the organization supports the medical relief efforts of MSF in 2005. Photo by: Mark Abbott
Mark Abbott was walking toward my table, MacBook Air in one arm. We agreed to meet up at the lobby of a posh five-star hotel in Makati, Metro Manila's business district, where he was enjoying a one-day layover after flying from Honolulu to Sydney. After Manila, he was going to Taipei.
Despite having been to five different countries and states in the last five days as a cargo air pilot for FedEx, he seems relaxed and sips coffee while the hotel orchestra plays in the background. It doesn't seem he's spent the better part of his time up in the air.
After serving in the Gulf War and finishing his active-duty commitment in the U.S. Air Force in 1991, Abbott decided against more lucrative opportunities in commercial aviation to join Air Serv International, a nonprofit that specializes in aviation services for humanitarian agencies, which he used to be a pilot for until the organization decided to move its operations to Uganda. Abbott still sits as chairman of the board for the organization though.
His brother, who was working for World Vision in Mali back then, told Abbott about Air Serv, and a few weeks later he was on his way to Khartoum to carry out his first humanitarian mission out of Sudan, where he soon realized that humanitarian work was just as exciting and risky as being a fighter pilot. A humanitarian logo, he found out, won't keep you from being taken hostage, and good intentions won't spare you from being shot down.
"Coming from the military first, we are always used to that, because in the military people are trying to shoot back at you. But [in doing humanitarian work], even though you are trying to send in medicine or food to the people, people are still trying to shoot at you," he said. "I probably got shot at more at Air Serv than with the Air Force. It's crazy."
Juba extraction
Among Abbott's assignments in Sudan was to transport food, medicine and other aid items to different parts of the country for several international nongovernmental organizations. Sometimes a U.N. agency would contract Air Serv to fly low over conflict areas in what is now South Sudan to check on the situation of civilians.
In 1991, the country was ravaged by conflict and famine, and Osama bin Laden was still a guest of the government led by Omar al-Bashir, who had seized power two years before and toppled the regime of Hassan al-Turabi. At the time, Bashir's support of Saddam Hussein during the Gulf War prompted many Western donors to pull out of the country despite the dire humanitarian needs of the population.
"Bin Laden lived in town; we'd see him drive around in a Mercedes Benz. He was known as a crazy guy, [going after] women not wearing burqas," Abbott said.
Air Serv's strict protocols did not allow him to land unless he obtained permission from both warring parties in the conflict, but once he was almost ready to ignore the rules to rescue a group of humanitarians trapped in Juba — now capital of South Sudan — because the city's borders were then lines with land mines. No other pilot was willing to accept the mission, but Abbott knew some of the aid workers personally, so he decided to take the job.
"What if they get killed? I wouldn't be able to live with myself. I had to go and try," he said.
Abbott secured a permit from the government, but the one from the rebels came late just as his aircraft approached the North-South Sudan war demarcation line. They were only given 30 minutes to land, refuel, pick up the aid workers and take off to Muglad, a city in northern Sudan just across the DMZ, where he had to find a tiny airstrip with a roadmap because he couldn't get a GPS signal, and ask an airport staff member to guide his landing with car lights.
Witness to genocide
In 1994, firms like Air Serv were scrambling to keep up with the demand for humanitarian flights in and out of Rwanda, where up to 800,000 people died in the fastest genocide on record in human history.
Tutsi refugees fleeing the Hutu death squads were pouring out of the country in droves to resettle in Zaire (now the Democratic Republic of the Congo) and Tanzania, among other neighboring nations. Air Serv mostly operated routes serving a huge UNHCR refugee camp holding over 250,000 Rwandans on the Tanzanian border.
But sometimes Abbott had to fly into Zaire, where corrupt customs and immigration officials would charge him and other humanitarians $100 to clear every item of cargo or $200 for a single-entry visa.
The problems led the pilot to inspect the Gisenyi Airport in Rwanda, which organizations thought would be a better alternative to the Zaire airport. He went there alone, not anticipating the dangers he could face upon arrival. As soon as he got out of the plane, Tutsi soldiers came out of the bushes and mistook him for a Hutu spy.
Abbott was held hostage for six hours.
"I kept on telling them I wasn't a Hutu spy. My airplane had a U.N. logo on the side. But they wouldn't believe it," he said. The troops didn't understand him; they spoke French and Abbott knew only English.
Only after the soldiers were contacted by Peruvian U.N. "blue helmets" was Abbott released. The Peruvians took him back to the airport and warned the American to not come back, which he vowed to do.
"You know, there were many times I actually feared for my life … Anything could happen," Abbott said. "But you can't worry. If you think about it all the time, you won't be able to do your job out there. You have to think positive. You can't think your life is in danger all the time."
Tough calls
Over almost two decades as a humanitarian pilot, Abbott learned the importance of standing one's ground and upholding standards.
Many times in his career, he encountered bullheaded clients who would insist on having armed military personnel on board, despite Air Serv's policy to not transport weapons or passengers in military uniform as a safety precaution.
"I'd say, 'well he's in military uniform. If he wants to go change, put jeans and shirt on, that's fine, but that's our policy.' And that's going to make the guy in charge of contract mad. But I go, 'I'm sorry, that's our policy,'" he said. "That's a difficult decision especially on the field in some places where you're 500 miles away from any type of civilization and there are kids with machine guns and there's this military commander who'd say he wants a ride, or you need to take his wife, and we say 'no, you have to be on a manifest with the U.N.' So just not giving up your ground, hoping he's not going to shoot."
He also underscored you must make the right call the second time, if you failed to do it the first time around.
During one mission in South Sudan, Abbott and his co-pilot thought it was safe to land after dragging the plane three times on the ground. It had just rained, and the landing strip was still wet. Upon landing, they sunk three feet into the mud and got stuck. Some locals helped them dig out the aircraft using machetes, and the task was luckily completed before sundown.
"We knew if we spend the night there, we'd get malaria. There's no doubt, because everyone in those villages has malaria," he said.
Limited opportunities
Despite the advantages of airlifts, Abbott admitted air services in the humanitarian industry are only in high demand when it's not safe on the ground or weather conditions make roads impassable, like during the rainy season in South Sudan.
In Haiti, for instance, practically any city is less than 45 minutes away by plane, but most aid groups would rather drive seven hours to save money. Hiring a small cargo plane costs about $1,500 an hour, compared to just $200 for a truck.
"The price difference is — you can buy one more ton of medical supplies," he said.
Despite these limitations, Abbott dismissed concerns that the demand for air services in the humanitarian industry has slowed, although he did acknowledge his organization has downsized operations for the past couple of years.
Pilots eager to emulate him can join Air Serv, which hires about six pilots every year — mainly entry-level co-pilots that have logged around 1,000 flight hours.
The current preference though, at least at Air Serv, are East African pilots with experience flying Cessna Caravans and holder of a Uganda Civil Aviation Authority license.
The salary may not be as competitive as that of a commercial pilot, Abbott said, but the perks can range from saving a human life to meeting and having a celebrity humanitarian ambassador like Angelina Jolie on board — although he never had the chance.
What is it like being a volunteer or an aid worker? Share your stories with us — from heartbreaking to awe-inspiring — and email us at news@devex.com.
Join the Devex community and access more in-depth analysis, breaking news and business advice — and a host of other services — on international development, humanitarian aid and global health.